Choose from our award winning product range, because our solutions work for every business – no matter the size
Explore the powerful potential of our range of products to serve your business needs and improve productivity, efficiency and agility. They all benefit from Kyocera's robust and innovative technology. Compare up to 5 products.
Turn the future to your advantage
We support your digital transformation with tools that can help you rapidly empower your workforce
Uncover the hidden value of your content
One of the first steps towards becoming a digital business is to capture and manage content in a controlled way so that it is always where it's needed at the right time. Then it needs to be organised and secured.
New paths to growth
Only then can its value be unlocked to stimulate business growth. Collaboration becomes more effective, progress speeds up. Kyocera has the know-how to make it happen for you.
Taking that critical first step
The prospect of transforming your organisation to be digitally-savvy can be daunting. Beyond the hype, there are serious benefits by taking the leap to digital transformation – gross margins, earning and net income can all be increased.
Do it right
But the move needs to be handled smartly. Where do you start? What value do you want to realise using content and data? How will you achieve measurable outcomes, such as reduced costs, improved customer service and higher productivity?
Get the right partner
With Kyocera as your partner, you can approach digital transformation in a planned, systematic way with a focus on the end result.
Kyocera Managed Document Solution
What is KYOCERA MDS?
MDS stands for Managed Document Services. It is superior to Managed Print Services (MPS) (Managed Print Services) because where MPS only focuses on output, MDS optimises your entire document output process from capturing to archiving, workflows to security and environmental impact. This holistic approach makes MDS a unique and vital strategy for every company that wants to look at its entire potential for cost reduction. In fact, experience shows that MDS can reduce output costs by around 30%.
KYOCERA MDS uses a process of Assess, Design, Implement, Optimise and Manage to precisely identify your document output costs. We highlight where time and resources are wasted before creating a tailor-made environment to reduce your overall costs and impact on the planet. What's more, by offering a wide range of services from one single source, KYOCERA MDS eliminates the frustration and time-wastage of dealing with numerous vendors. Ultimately, KYOCERA MDS can streamline your output management, reduce your IT department's workload and also cut the environmental impact of your printers and MFPs.
Why choose KYOCERA MDS?
KYOCERA MDS is the perfect partner for more efficient, economical and environmentally-friendly document output. It is a total solution that optimises your entire output process from hardware to workflows and staff productivity regardless of what brand your devices may be. KYOCERA also ensures industry-leading support through our fast Help Desk and Remote Monitoring. So you can now get all the output management services you need from a single, reliable source. And if you choose KYOCERA hardware and software, you also enjoy the following benefits and reassurances:
・KYOCERA printers, copiers and multifunctional devices are renowned for their exceptional reliability and economy.
・KYOCERA software applications are your guarantee for lean and secure document processes.
・KYOCERA has always focused on environmental protection and the preservation of economical resources when developing its products and technologies.
・With KYOCERA, you enjoy all the expertise you need from a highly dependable service partner.
KYOCERA MDS is not just for large, international corporations. Our services are of great benefit to small and medium-sized companies. We are confident that KYOCERA MDS will help to achieve significant cost reductions in your company, too.
And with KYOCERA, you enjoy all the expertise you need from a highly dependable service partner.
Reduced costs. Less environmental impact. More security.
Increased employee productivity and satisfaction. KYOCERA MDS has many practical advantages.
Economic: COMPLETE COST TRANSPARENCY AND SAVINGS OF UP TO 30%
There are several ways MDS can reduce your total cost of ownership: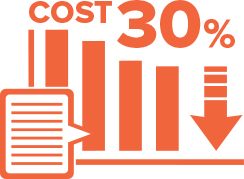 ・Reducing the use of consumables such as paper and toner.
・Cutting energy costs.
・Lowering service and support costs.
・You can set up binding print policies that determine when colour printing systems may be used, thereby avoiding unnecessary costs.
・Because the age and lifetimes of the systems are all known, cost drivers can be easily identified and removed simply by exchanging devices.
Optimization: INCREASED PRODUCTIVITY AND EMPLOYEE MOTIVATION
Clearly measurable benefits also arise from other less cost-driven benefits: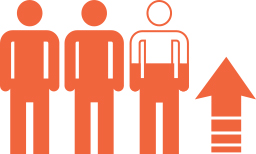 ・Increasing productivity through optimised workflows, reduced down-times and minimising the workload of IT staff who look after your fleet.
・State-of-the-art output solutions make document management faster and more effective: eg automated capture, distribution and archiving of regular documents like bills, purchase orders or insurance applications.
・Optimised device management saves time and reduces staff frustration: It decreases the time spent waiting for documents due to overuse and ensures proximity to the work area where employees need it most.
Hassle-free: PROFESSIONAL, CUSTOMISED AND FROM A SINGLE SOURCE
With only one point of contact, MDS saves you trouble and manpower.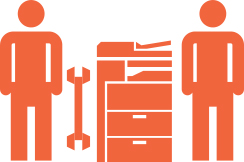 ・We supply you with everything you need for every printer and multifunctional device, regardless of the brand.
・We take on all maintenance and repair services, both for our own printers and copiers as well as those of other manufacturers.
・Remote Monitoring system: We recognise deviances in the functioning of a device and react quickly whenever needed without having to be on-site.
Eco-friendly: IMPROVED ENVIRONMENTAL AND SUSTAINABILITY MANAGEMENT
KYOCERA MDS helps reduce your energy and resource consumption, improving your balance sheet ecologically as well as economically.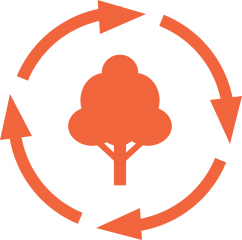 ・We improve environmental sustainability through economic software applications and ECOSYS technology.
・By consolidating your hardware and using electronic data management, you take a big step forward in energy efficiency.
・We can advise on the conversion of your fleet to energy-saving printers and copiers that will make an even larger difference to your energy costs.
・Other services include: Using recycled paper, developing company-specific disposal concepts and implementing a company "print policy" that requires employees to be be more ecologically considerate.
Secure: IMPROVED MONITORING AND PROTECTION OF DATA AND DOCUMENTS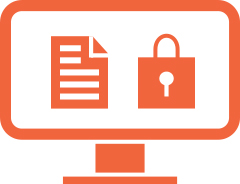 No matter what line of business you are in, your documents and network hold vital information.
You have an obligation to protect your client's documents and your customer's private data.
KYOCERA MDS offers additional security through authorised access to devices and networks, as well as by keeping tighter controls on what is being printed.