Toshiba business printers and Multifunction Printers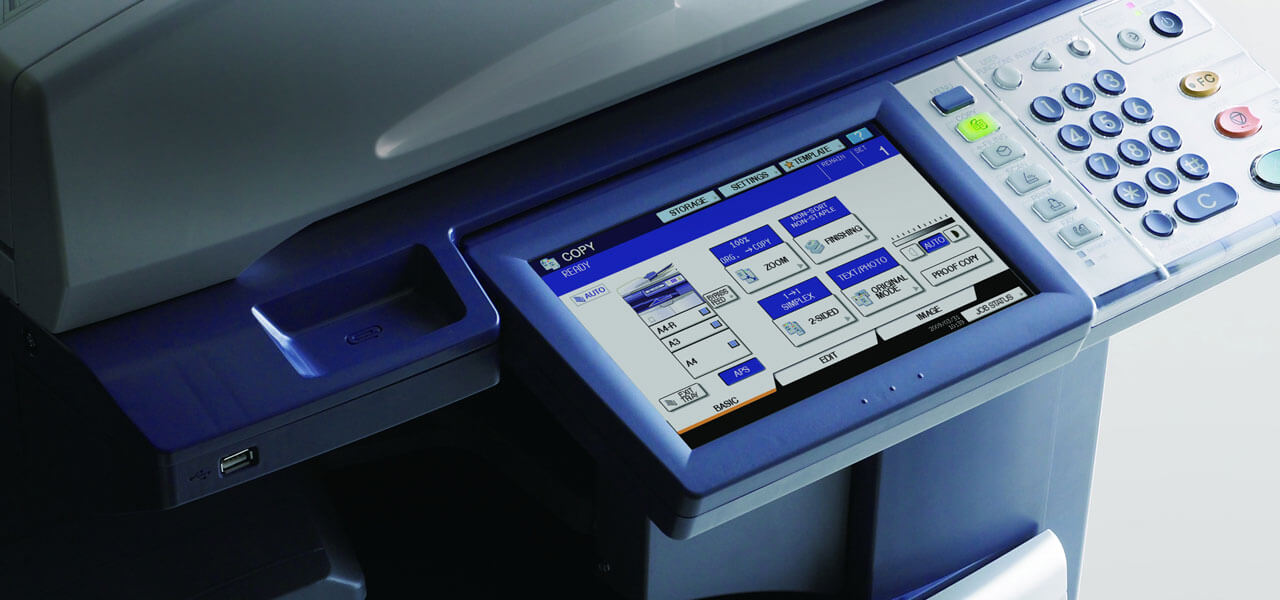 Office workflows can only get simpler and swifter with Toshiba e-STUDIO Solutions. Coupled with the refine quality and technology advancement of Toshiba e-STUDIO Multifunction Printers, the e-STUDIO Solutions empowers users with the capabilities to print, search, save, edit, distribute, manage, track and enhance specific business workflows. Furthermore, all these are done while keeping business information and intelligence securely protected throughout the whole document cycle of print, copy, scan, fax and many more. Providing a greater peace of mind together with advancement in technologies, e-STUDIO Solutions is taking businesses into a completely new generation
Products and Services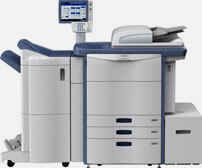 COLOUR – E-STUDIO5560C/ 6560C/ 6570C
Highly reliable
In print mode, text and solids received BLI's highest rating, business graphics were bright, images were smooth and flesh tones were natural
On-the-fly toner replacement and simple procedures for clearing misfeeds maximize uptime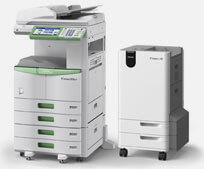 E-STUDIO306LP/ RD30
World's first eco-friendly MFP system that can erase images and text on the prints.
The e-STUDIO 306LP MFP combines with the e-STUDIO RD30 for removing the toner color from the printed documents
Cost-saving yet having a positive 'green' effect in the office today
Paper usage is reduced to one-fifth
Support copy and print speed of 30 ppm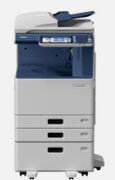 E-STUDIO3055C/ 3555C/ 4555C/ 5055C
Copy speed range from 30/35/45/50ppm
Scan speed up to 73spm
Incorporate a wide variety of the latest technologies such as the LED print head, new fusing mechanism and toner
Toshiba is an innovative and highly diversified print technology and electronics manufacturer that provides a wide range of products and services. Toshiba is a world leader in technology, and offers a wide array of e-STUDIO Multifunction Printer options and Toshiba business printers, providing customers with a high-quality and diverse range of Color multifunction printers and management solutions with all aspects of the technology and service designed to enhance print and workflow security, user-friendliness, efficiency, and more.
With Toshiba business printers, office workflows will quickly become smoother and more streamlined. Coupled with the refined quality and technology advancements of Toshiba e-STUDIO Multifunction Printers and Color multifunction printers, the e-STUDIO Toshiba business printers solutions empower users with the capabilities to print,copy,scan,fax and enhance specific business workflows. Furthermore, all this is done while keeping business information and intelligence securely protected throughout the whole document cycle of print, copy, scan, fax, and more. Providing greater peace of mind together with an advancement in technologies, e-STUDIO solutions are taking businesses into a completely new generation.
Understanding the benefits of MFP printers will help you make informed decisions when purchasing new equipment. Below, we take a look at some of the benefits that this transformative technology offers.
Benefits of Multifunction Printers
* Multifunction printers are an all-in-one or multi-function devices that incorporate the functionality of multiple office devices into one machine, consolidating the functionality of printers, scanners, copiers and more, into a single, easy-to-use machine
* Help your business leave a smaller footprint while enhancing workflow efficiency by providing centralized document management, distribution and production space
* With a multifunction printer, you will be able to effectively consolidate assets, improve workflow and reduce costs